Record numbers attend Mont Tremblant fly-in
It has been a wet spring in the province of Quebec with record rainfall and widespread flooding.
That's hardly ideal weather for recreational flying, but the last weekend in May proved better than most, and resulted in record attendance at the fifth annual HeliClub private helicopter fly-in at the Mont Tremblant resort north of Montreal.
At first, low cloud threatened to dampen the fly-in near the popular 2,871-foot high ski hill, but as the ceiling lifted dozens of helicopter enthusiasts converged at the nearby airstrip at St. Jovite from as far as 200 miles to the north.
Flying helicopters in Canada is generally a solitary activity, but French-speaking Quebec is now home for the largest concentration of private helicopters in Canada–260 certified and 30 experimental aircraft–and the enthusiasm of the owner-pilots is contagious.
HeliClub was founded a decade ago by Helico Store, a Robinson dealer in Quebec to provide customers with an opportunity to learn to fly safely while having fun exploring Canada and the United States in their helicopters. Many R22 and R44 owners were novice helicopter pilots who had no prior experience flying in Quebec's vast wilderness or crossing the Canada-US border.
HeliClub says this year's fly-in attracted 53 helicopters, with Skies meeting the owners of 40 aircraft on May 26 and 27, making it one of the largest private helicopter fly-ins in the world.
Among the participants were 26 Robinsons (20 R44s and six R66s), eight Airbus helicopters (one EC135, two EC130s and five EC120Bs) and six Bell models (one each of the 206B, 407, 407GPX, 427, 429 and 505) plus other rotorcraft that visited just for a banquet that was held during the event.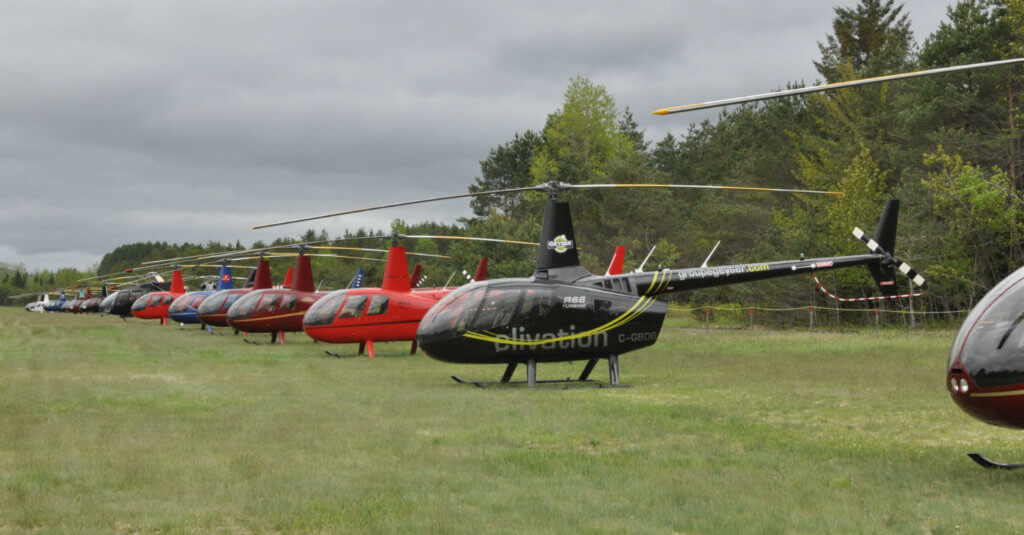 Quebec is the birthplace of Bombardier Skidoo snowmobile, and the helicopter club was loosely modeled on local snowmobile clubs, which organize cross-country winter trips that include winter camping and luxury resorts.
HeliClub has grown organically as members have traded up to larger aircraft and their friends and family were inspired to learned to fly a helicopter. Membership in the family-friendly club is open to any helicopter owner who had a business relationship with Helico Store and the many partner companies providing things such as flight training, maintenance, hangar space, fuel, financing, and insurance.
The guest speaker at the HeliClub banquet was Bell Helicopter Textron Canada president Cynthia Garneau, who took the opportunity to highlight Bell's achievements in Quebec and its worldwide sales.
Garneau said that HeliClub also helps Bell sell helicopters in Quebec since "many of the private helicopters are registered to 'number' companies and you have no idea who owns them. This event provides us with an opportunity to meet the owners face to face and invite them to fly one of our helicopters."
Several fly-in guests were enthusiastically waiting for the day when they could pick up their new Bell 505 Jet Ranger X from Bell's Mirabel factory, while other guests celebrated taking delivery of a pre-owned Airbus EC120B and EC135 – Canada's first private EC135 – earlier in the month.
Airbus Helicopters sales development manager Matthieu Laporte-Many noted that "there are 50 private Airbus helicopters in Canada and 35 of these are based in Quebec."
He said the EC120B and H130 have been particularly popular with owners who have vacation properties and don't want to upset their neighbors when landing on a Friday evening.
This year's celebratory helicopter pilot at the HeliClub fly-in was retired National Hockey League right-winger Guy Lafleur, wearing a Bell Helicopter pilot's identification badge.
Lefleur had a 17-year NHL career spanning two decades, from 1971 until 1991. He spent the first 14 years with the Montreal Canadiens, and, following a break, came back to skate with the New York Rangers for one season and the Quebec Nordiques for two.
Best known for his glory years with Montreal, Lafleur became the first player in NHL history to score at least 50 goals and 100 points in six consecutive seasons.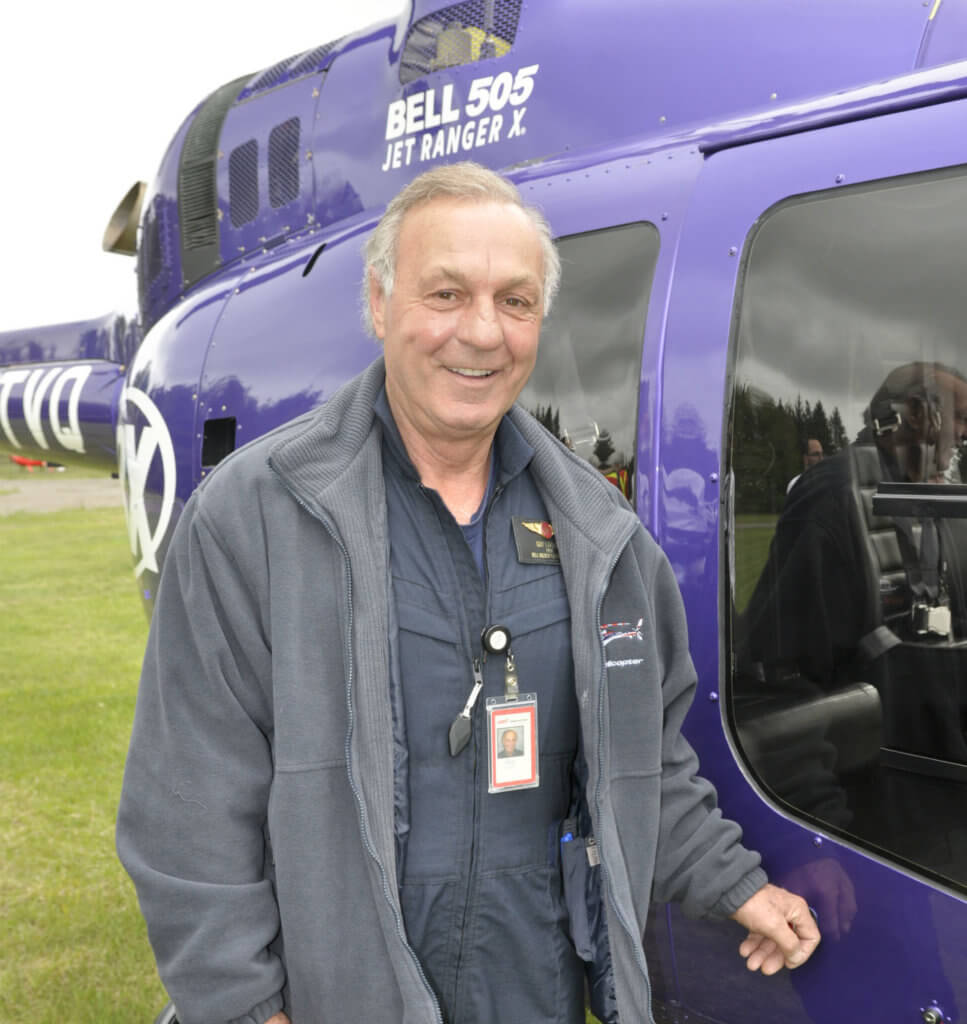 "I first flew in a helicopter when I was 17 years old to a forest fire prevention event at Lac Simon north of Montebello, Que.," recalled Lafleur. "I started learning to fly a Hughes 300C the year after I retired and soloed after 24 hours of instruction."
When Lafleur moved back to the Montreal area he didn't fly much–"I was a nervous flyer"–until he received an invitation from Bell Canada's director of marketing, Dennis Lacroix, to attend the Bell Helicopter Training Academy in Texas and join Bell test pilots making 12-hour ferry flights to Fort Worth.
Today, Lafleur flies a Bell 407 regularly for wood products company, and he also flies  a 206 once a week to visit his mother in his hometown Thurso on the Ottawa River, where he lands in a municipal yard that is a 10-minute walk from her home.
During his 14 years with the Canadiens, Lafleur and his teammates won the Stanley Cup five times, which was in the era when most of the owners/pilots at the fly-in were in school or beginning their careers.
Lafleur has flown every Canadian-built Bell model and during the event gave a flight demonstration of a prototype Bell 505 JetRanger X with test pilot Yann Lavallée.